Why New Houses Need A Sump Pump?
Whether you are building a new house or buying a home in the new subdivision, it's very likely that you will  have to install a sump pump.
In subdivisions, it is a developer's job to identify whether you need one, and comply to the building code and city of Toronto regulations. In the new home you build yourself, it is yours..
Sump pump may be required in the new home for several reasons all related to the basement flooding potential in your area.
1.       High water table
      a.       You are getting a house in the ravine, where water table is high.
2.       Heavy rainstorms
     a.     Even if you are not in a high risk area for basement flooding, you can be at risk of flloding from heavy rains
     b.     Heavy rainstorms dump so much water over short periods of time that they can overwhelm city sewer systems.
     c.     Sewers can back up and flow into the unprotected basement.
             Backwater valve is another great device to protect you from this situation. Note, however, that in a very heavy rain your backwater valve may not sustain the water pressure and break, with all the sewage flowing into your basement with water. That's when sump pump comes handy.
3.     Walk-in basement
     a.       If your house is not on the slope, your walk-in basement door must be on the level that is lower than the level of earth. In a heavy rain or drain emergency situation, water may collect at the basement entrance. You are required to protect your entrance with a weeping tile and direct all the water into your home's sump pump.
 Read more on basement sump pump and city rebates , sump pump installation  and maintenance.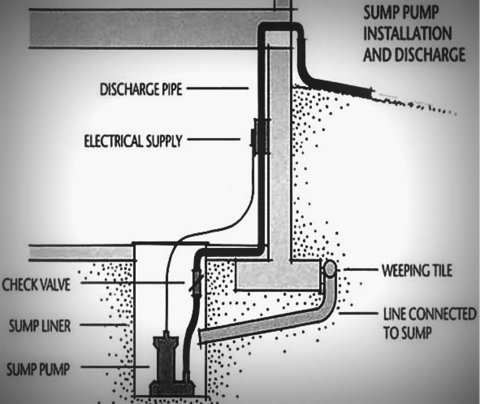 Sump Pump Discharge
You sump pump pit should be the place to collect all water  from the house and around the house that is not drained through the normal drain system.
You might think that it is OK to direct it to the drain and sewage system, but this is illegal in most areas, it is definitely illegal in Toronto. This is because cities protect their drain system from being overloaded. So you have to have a sump pump discharge and dump all this water on the Earth outside of the house.
There are also rules, regulations, and recommendation regarding the sump pump discharge, but most of them are common sense.
For example:
1.       Do not allow water  from your sump pump to drain on or around public sidewalks, lanes, streets. They can freeze and become a hazard.
2.       Do not discharge water onto your neighbour's property.
3.       Do direct water to your lawn or garden. Move the discharge pipe around so that some areas don't get overwatered.
The problem with many new homes is that they don't have a big lot, so as a homeowner, you may have limited options in terms of places to direct water from your sump pump.
This is why you should also look at other options that reduce the load on sump pump. For example, you can improve drainage around your home.
How To Improve Drainage
1.       Have the eavestroughs around your roof, and clean them often. If they still overflow, even when they are clean, install bigger capacity eavestroughs.
2.       Extend downspouts away from your home. This is a simple and cheap fix that many homeowners overlook. Home Depot sells flexible pipes that you can attach to your downsprouts
3.       Build up ground around your home so that water flows away from your basement walls.
As you can see, sump pumps are requires in new Toronto homes.
For more detailed explanation of basement flooding, please check how to stop basement flooding and this presentation by the City of Toronto. 
Sump Pump Rebate: City Of Toronto
City of Toronto offers generous rebates to the homeowners who decide to install a sump pump. Check out our plumbing rates - and consider that most of the cost will be reimbursed by the city. 
Before you spend thousands of dollars, give us a call at 647-287-9589. At the off-peak season we may offer you to get your permits on your behalf - for free. At A To Z Plumbing & Drain, we offer a free home plumbing inspection and provide advice for the best basement waterproofing strategy. 
---
Go Home from Why New Houses Need A Sump Pump