Client Testimonials - A to Z Plumbing & Drain from Toronto, ON
Dmitry Monastirsky, a certified Toronto plumber and an owner of A to Z Plumbing & Drain,  makes sure you are satisfied with the results of his work. No time wasted on city subsidy processes... No mess... Only the highest quality work for a reasonable price.  Here are some testimonials from his clients. Dmitry will work hard to get yours!
"I have nothing but good things to say about Dmitry and his team! Thanks a lot gentlemen!!!"
Charlene from Toronto ( Backwater valve installation outside the house)
Read project details..
"He definitely made it an easy and effortless process and a great homeowner experience. We would not hesitate to recommend his company to our friends and family."
Chris from Toronto ( Backwater valve installation )
"Dimitri and his team were very responsive to our problem and gave us several options in fixing it. The job was completed very quickly and we've had no issues since."
Chris from Scarborough
Backwater Valve
Recent Review: "Dmitry and crew are always on time. Clean installation that required a bit of a creative thinking because of the position of the backwater valve. Dmitry was like surgeon, exploring where exactly drain pipe is and cutting precisely where needed. Paperwork was taken care of.
Olga
They did a back flow valve, very well. They took care of everything came in, did initial work waited for the inspector to come and approve and came back and finished off the work and cleaned up. They also installed a sump pump with battery backup. The work was done properly and quickly."
Mark.
---
Drain clean out, drain pipe repairs: drain clogged with roots

"We have a tenant in our basement apartment and have previously done extensive work with other drain companies. I called one of the companies up and they wanted too much for just coming out and inspecting. I remembered Dmitry because he did a few other plumbing jobs for me very well. I was pleased to hear that he also does camera inspections. Dmitry removed the toilet and pulled out a mass of roots the size of a 20 pound salmon! Dmitry did the camera inspection which revealed that the pipes were absolutely clean and clear of all roots. So where did the roots come from? Dmitry showed me how the roots did not penetrate the pipes but actually came up through the cement floor in the basement and penetrated between the seal of the toilet and the pipe: amazing. Dmitry advised me to removed the wooden subloor and laminate that sits over the top of the concrete floor, break up the concrete, pour a new floor and lay down tiles in the bathroom. What a fantastic advice! That is why I keep on using A to Z Plumbing & Drain." Taras in High Park
---
Drain Pipe Repair, plumbing kitchen sink, and more
"Dmitry has been assisting Lisa and me with our home and rental properties in High Park and Roncesvalles for over 4 years. The work has always been exceptional no matter if we needed a kichen or bathroom renovation, or to snake basement drains to clean out a blockage. I would strongly recommend Dmitry and A to Z Pluming & Drain to anyone who needs a job completed on time, with market competitive prices and friendly service. A truly professional service provider." James from High Park, Roncesvalles
---
Basement waterproofing services: interior and exterior basement waterproofing
"Dmitry saved my house ! My former contractor (since fired) had left my house in a mess after a basement lowering that failed to pass inspection. I had a flood of ground water (6 to 10 cm) that was requiring daily pumping. Dmitry came in and fixed the problem. He did exterior waterproofing, interior weeping tile and installed a sump pump. The basement is now dry. His work is excellent and his price reasonable. I plan to have him and his team come back in the summer to finish the plumbing and drains. He is reliable and trustworthy, and I felt very comfortable having him in my house. I highly recommend him." Nancy Brown, Toronto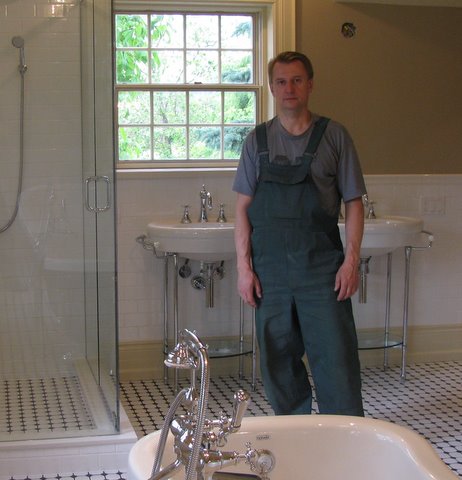 ---
Have you contracted Dmitry or Toronto plumbers who work for him? Please send him your honest opinion about the job they have done for you. You can leave your feedback here or on the popular review site,
HomeStars.com
Leave a comment or testimonial
Did you employ plumbers from A to Z Plumbing and Drain of Toronto, ON? We'd like to hear about your experience. Did everything go well? Leave us your testimonial. If you were not absolutely satisfied, give us a chance to correct the situation. Please leave a comment here and Dmitry will get back to you.
What Other A To Z Plumbing & Drain Clients Have Said
Click below to see contributions from other visitors to this page...