About Us: Master Plumber Dmitry and A to Z Plumbing & Drain
Hello, and thank you for visiting page about us.
The fact that you are here speaks volumes. It tells me that you care to check sources of information you found on the Net. It also tells me that you do your homework before you invite a professional into your home.
About Dmitry
My name is Dmitry Monastirsky, and I am a Master Plumber and the founder of A to Z Plumbing & Drain.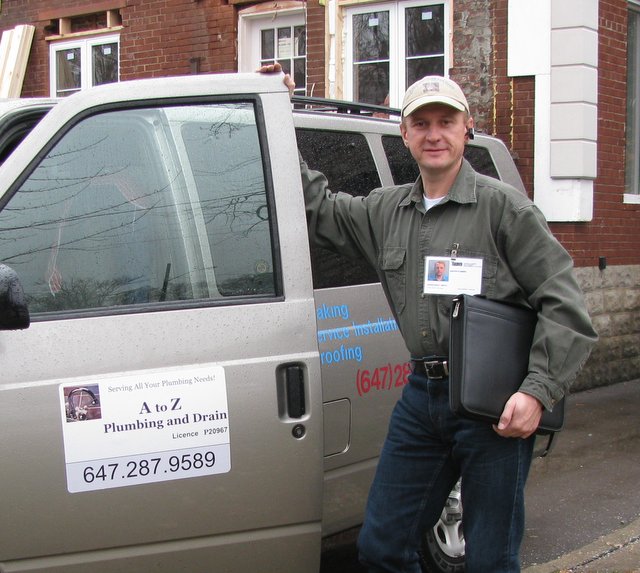 I came to Canada from the Ukraine more than 10 years ago, and started my plumbing business in 2002, after training and getting licenced and certified by the City of Toronto as a Master Plumber.
My background as a mechanical engineer is very helpful in my career as a plumber. I read blueprints with ease, which comes handy for the estimates, especially for the big jobs. I can give a very accurate estimate without even seeing a property sometimes. But this is not the only benefit.
I am trained as an equipment repair engineer at the International University of Civil Aviation Engineers in the Ukraine. This is a very hands-on occupation that requires creativity and non-conventional thinking while adhering to the strict codes and standards one hundred percent.
After the university, I spent five years working for the famous gas and oil giant in Russia called GAZPROM . This experience and on the job training made me a pro in piping and pumping equipment. :)
When you are selecting a plumber, every professional has a history and strong points and experiences under his belt. When you choose to work with me, you get an engineer and a plumber... And a customer service addict.
A to Z Plumbing & Drain
I started this company because I had a vision.
I worked in the industry with different plumbers in Toronto before I started my own business.
There are still plumbers who stain your carpets with dirty footprints, leave your house in disarray, and charge you for just showing at your door. There are still people out there who don't care to be punctual. They make you waste your hard-earned vacation day by showing up late and then scheduling another appointment. And the practice of overcharging is still alive.
Having clean, organized environment, and showing up on time is very important to me. Your time is valuable, you don't want to spend it waiting for me and then cleaning up after I leave. Anyone who works for me is expected to come on time and leave the house in the same condition as it was before their visit.
Imaddaoud from Toronto says, "Dmitry and his team always arrived on time and left the site super clean which is not easy considering all the digging and dirt that was needed to install the valve in the basement. I am extremely happy with Dmitry, the crew, the job, and the overall experience which I cant say the same about all the other plumbers I had come in."
Doing a great job and seeing eyes of my grateful customers light up with joy when the problem is fixed is what makes me feel like I am contributing to the betterment of my industry... and makes my day.
Ross from Toronto says, "Dmitry was prompt, always on time, and thorough... His workers were skilled at their job and I did not feel like I had to be watching them constantly to be sure they were doing things right. Dmitry is the best contractor I have ever hired.." See more reviews on Homestars.com
Honest charging is a matter of my professional ethics. But I go even further. Every month I run a promotion and give my customers even more - either discount or a free home plumbing inspection.
Joanna from Toronto says, "Dimitri was extremely responsive… His investigation was exhaustive... He was professional and extremely thorough and the cost was incredibly reasonable."
Over the years, I have become a family plumber for many of my clients as they trusted me and passed my cards on to their family and friends.
And now I have a team of plumbers working for me. I require that they adhere to the same principles that form a core of my vision for my company.
I still come to your home to do estimates and discuss customized plumbing solutions for your house.
Please browse my site if you need to learn more about plumbing.
If you are in Toronto and GTA, and want someone to fix your plumbing or unclog your sewer or drain, just call me at (647) 287-9589 or (416) 519-4919.
I beat any written estimate and I will work hard to become your Family Plumber.
Best regards,
Dmitry Monastirsky _________________________________________________________
Go Home from About Us
Take a look at our Plumber rates for a price list for our services.