Home Repair Plumbing - Do It Yourself or Hire a Plumber?
People attempt "do it yourself plumbing" (DIY plumbing repairs) to save money, but in reality it is not that expensive to have basic plumbing repairs done by a certified Toronto plumber. And it is safe, too. At A to Z Plumbing & Drain, we guarantee that everything is done to the code and your water pipes won't unexpectedly burst later. We give guarantee as long as 25 years on some of our services. You save money on trips to Home Depot, and time on learning quite a complex trade for just one time.
Home repair plumbing is an important topic for any homeowner and finding a good certified plumber should be a priority. A good plumber can fix existing problems in your home plumbing, as well as help you take steps to ensure that other plumbing problems do not occur in the future.
Choosing the wrong plumber can have a number of negative consequences. You may have problems with your plumber overcharging you or just plain not finishing the job. Additionally, you may have problems with the quality of the work. Since there are so many things that can go wrong, it is essential to choose your plumber very carefully.

What Plumbers Do
If you own a home or plan to build your own home, you will most likely need to hire a plumber for home repair plumbing tasks, such as:
Camera Inspection - If you have a blockage in your pipes, plumbers can also do a sewer pipe camera inspection where they put a camera in your sewage pipes to determine where the problem is and what they need to do about it.
Clear Clogs - If you have a clogged sewer and plugged drain, you might need a plumber to help fix the problem.
Water Pipes - Plumbers are experts on repairing and fitting water pipes.
Waste Disposal - If you need to fix or set up waste disposal, drainage or water systems in your home, you would also need to call a plumber.
Installation and Maintenance - Plumbers handle installation and maintenance for all of your toilets, faucets, sinks and taps.
Rough In Plumbing - If you are building your own home, you will need a plumbing rough in, which is where you install bathtubs, water lines and sewer lines. Rough in plumbing is very tricky to do without the help of an experienced plumber.
Repair Fixtures - In addition to installing fixtures and pipes in a new home, a good plumber can also help repair any pipe or fixture related issues.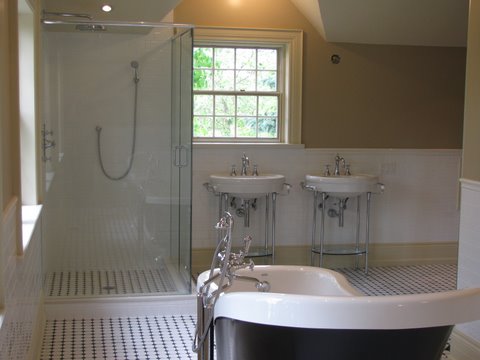 Who is your 24 hour emergency plumber?
The name and the phone number of the 24 hour emergency plumber should be posted on the contact list of people who are notified in case of emergency. When the water is pouring out of the ceiling through collapsed wallboard or sewage is backing up in the finished basement, it is no time to be leafing through the phone book looking for a good plumber.
Dmitry will be happy to help you in case of emergency. He is on call 24x7, serving Toronto and area. Please bookmark this page or add his numbers (647) 287-9589 and (416) 519-4919 to your emergency services list.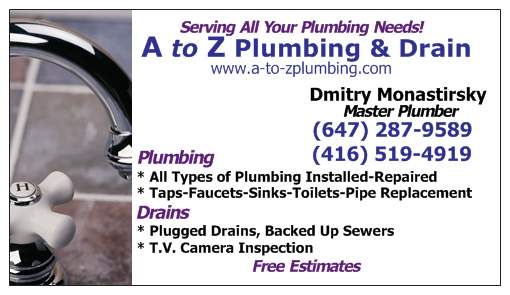 Check out our Plumbing Photo Gallery GTA

---
Go Home from Home Repair Plumbing in Toronto
Check out Sewer and drain cleaning Toronto
Read about Drain Pipe Repair Toronto and Drain Pipe Replacement Toronto