Sewer And Drain Cleaning Service In Toronto
Highest Quality and Lowest Price Guaranteed!
__________________________________________________________
September Special:
Free Home Plumbing Inspection
with ANY plumbing service.
Call (647) 287-9589 or email dmitry@a-to-zplumbing.com today
Unbelievable value: check your whole home plumbing system for free!
*Limited time offer, valid only in September, 2023
________________________________________________
Have you just come home, opened that door, and realized that you are facing your worst nightmare - backed up sewer? Is there sewer smell in the house or, even worse, sewer flies? 
The most frequent reason for the clogged sewer is usually some household items that ended up in the sewer pipe: a rug dropped into the sewer by accident, a fluffy child toy or a ball that you lovely pet threw into the toilet. 
But did you know that there is another very popular root cause (literally) for this problem if you live in Toronto and area? It's a green city full of trees, and their roots grow through your old clay pipes seeking for water. They can cause much more mayhem in your sewer and drain system than an innocent pet toy. 
Toronto plumbers usually offer sewer clean out and pipe repair services. These services are necessary to keep your pipes and drains in working condition especially in the City of Toronto where sewer pipes are old and so are trees which have a well developed root system.
Backed Up Sewer
If your sewer is backed up, sewer clean out and pipe repair services can help fix the problem. A backed up sewer is a major issue that you need to get fixed immediately. If left unchecked, it can cause toilets, tubs and sinks to get clogged and start backing up. Essentially, your fixtures will not be able to drain water and the water may even rise. You may even have sewage come up through the fixtures or have problems with basement flooding. 
If you are having trouble with a backed up sewer in Toronto, the first thing you should do is call Toronto Water at 311 to report the issue.
The city of Toronto will fix any problems with your city-owned sewer connection, but if the problem is located on your property or due to your connection to the city sewer line, you will have to call a local plumber to fix the issue.
All sewer systems have sewer clean outs, which are pipes located near the sewer line. They rise out of the sewer line and have caps on them. These pipes make it easier to clean or remove blockages from the sewer. If your sewer is backed up and you need to access one of your clean outs, it may be hidden or you may not know where it is. A plumber that offers sewer clean out and pipe repair services can help you find your clean out and remove the blockage. 
Two most popular  ways to release the sewage blockage are:
Sewer and Drain cleaning service by sewer and drain cleaning powerful electrical equipment, and
Power (jet) washing service of the drain and sewer system.
These sewer cleaning services work great if the cause of your sewer blockage is a household item in your sewer pipe. They are only a temporary solution in case if your sewer blockage is caused by the tree roots in your pipes. 
You see, we will cut the tree roots, but they will grow back. And you will have to call a plumber and pay for sewer cleaning again.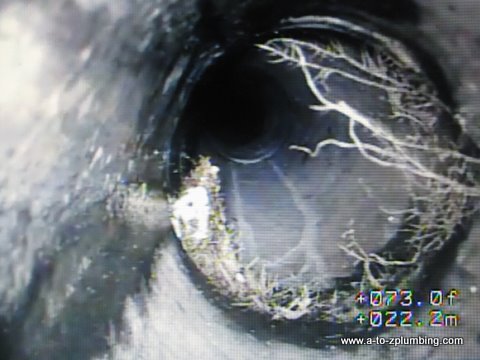 Do you want to see how your sewer and drain system looks like?
We do free inspection of your sewer pipes as our gratitude for your ordering sewer clean out or main drain snaking services from us. You have no obligation to order any further services from us to receive this free complimentary check up of your system.
That's right. We provide "Pay once, benefit twice" option.
If you call us for sewer cleaning or main drain snaking, you also get free sewer pipe camera inspection. You will see the "movie" and understand your sewer and drain pipe condition.
As a result, together we will make a decision. Is it really necessary to do sewer pipe repair or it is better to perform new drain pipe installation?
At A to Z Plumbing & Drain, we avoid unnecessary repairs. We believe in giving you all the options and letting you making an informed decision that will save you money. Call us (647) 287-9589 and (416) 519-4919 to schedule your appointment.
P.S. Take a look at the video we shot at one of the Toronto homes. This video shows how those roots look like and how they grow into your pipes causing cracks, leaks and pipe blockages that result in sewer back up.


---
Go
Home
from
Sewer and drain cleaning Toronto
Read about
Drain Pipe Repair Toronto
and
Drain Pipe Replacement Toronto
Check out our
Plumbing Projects Gallery