Storm Catch Basin Installation (Toronto/GTA)
Storm catch basin installation can be required to prevent soil erosion and to direct  "the storm water away from the building in such a manner that the storm water will not accumulate at or near the building and will not adversely affect adjacent properties." (TORONTO MUNICIPAL CODE CHAPTER 681, SEWERS)
 Most often they are installed when storm water forms lakes on the property, or the driveway slopes towards the house, and house and garage get flooded during heavy rains. 
Private Storm Water Basin
Here is an example of storm water basin installation that A To Z Plumbing & Drain has recently conducted for its client in the City of Toronto:
We've helped to choose the right solution, obtain permits, and completed the installation in this Toronto home.See finished look: 
Both commercial and private properties may require a storm catch basin or already have one in need of cleaning and repair. There are estimated 5000 private catch basins installed in the City of Toronto, majority of them in North York and Scarborough.
It's important to know that drain catch basins are meant for melted snow and storm water only. They connect to a storm sewer pipe that goes to the lake, as opposed to the sanitary sewer pipe which go to the sewer treatment plant first, as explained on the  City of Toronto's diagram: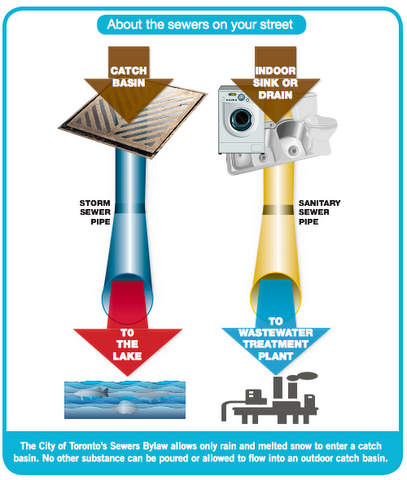 Storm Catch Basin, Sump Pump, Backwater Valve, Trench Basin - What's the Solution?
Storm catch basin is not the only solution for the flooding problem.
·      Sometimes, trench basin or drainage system around your house is a better solution.
·      Sometimes, storm catch basin installation should be accompanied with sump pump and backwater valve install.
·      Finally, some homeowners build lawn with slope away from the house and appropriate waterproofing for the house.
Plumbing projects are costly, so choose wisely. City of Toronto certified plumber can investigate the source of flooding and offer the best solution that complies with City's bylaws.
Storm Catch Basin Cleaning And Repair
Catch basins require cleaning from debris, and occasional repair as their cement walls deteriorate, pipes get clogged or broken as a result of stress imposed by tree growth, landscaping, construction work, or simply their age.
It's important to know that the responsibility for maintenance and repair of the private storm water basin is on the homeowner:
"Chapter 629, Property Standards, of the Toronto Municipal Code (the City's Property Standards By-law) provides that all catch basins, storm drains, ditches and swales shall be maintained free from defects and obstructions (§ 629-11. Landscaping, drainage and grading).
Chapter 629 also imposes a duty upon the owner of a property to repair, maintain and keep clean the property in accordance with the standards, and take immediate action to eliminate any unsafe condition (§ 629-5. Owner's duties)."
Call A to Z Plumbing & Drain to find the right solution to your flooding problem. City of Toronto bylaws are updated all the time, and responsibility for complying is on you, a homeowner. Let a City of Toronto licensed plumber resolve your issue so that you don't pay hefty fines or have a repeat flooding later. 
We install and repair storm catch basins in North York, Scarborough, Mississauga and other municipalities of the Greater Toronto Area.
Sources: City of Toronto materials, including:
https://www1.toronto.ca/City%20Of%20Toronto/Toronto%20Water/Files/pdf/EMP%20folder/A1502804_CatchBasin-WebFINAL.pdf
 http://www1.toronto.ca/wps/portal/contentonly?vgnextoid=0ec12140f1c8f310VgnVCM10000071d60f89RCRD