Rough In Plumbing Must Be Done By A Licenced Plumber In Toronto And GTA (It's a law)
Rough in plumbing includes installation and fitting of your pipes and plumbing fixtures. This is a complex work that A to Z Plumbing & Drain's plumbers routinely do in Etobicoke, Toronto, Mississauga and, practically, all over the GTA.
When you're thinking about household renovations, particularly a bathroom, it's important to remember that you'll be dealing with rough in plumbing and all the standards for its installation. Many municipalities require that certain aspects of rough in be performed by a licensed, insured professional. In Toronto, it's the law. This is really for your protection. A contractor's work comes with pre-specified warrantees on the workmanship and parts, whereas trying to go it alone could leave you with a lot of repair and flooding problems later.
Here is Master Plumber Dmitry doing plumbing rough in for one of his Etobicoke clients: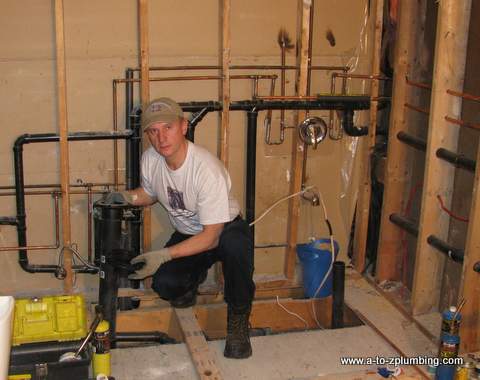 How to compare rough in plumbing quotes
Essentially, rough plumbing is what goes into the space before any finish work. The term only applies to the actual pipes and fixture fittings.
Anything beyond that level, such as the shower head, is called plumbing trim. So when you're looking at quotes for this type of job, the services should ideally include drain pipe, fittings, a pipe for water supply, suitable primer and glues and any required ditches for connecting the interior to the exterior water supply and sewer. Make certain that any service discussed and agreed upon with the contractor appears as a line item in your final quote/contract.
On average, depending on your home's construction, size, and scope of your planned renovations, it should take experienced plumber contractors about three days to do rough-in plumbing. While bathroom rough in can be done in one day, I am sure you understand, doing plumbing for an average 2000 sq.ft home may take more than three days.
The best way to find out exactly what to expect is to call us at 647-287-9589 . If you have a written estimate from another company, give us a chance to beat it.
We deliver on our promises, be it time, price, or scope of your project. Get Master Plumber Dmitry, with his engineering degree and vast pipe repair and installation experience, to attend to your complex project.
Please check out our Plumbing Services Price List and don't be shy - call us , talk to Dmitry about your project, and let us make it happen.
Plumbing rough in: what to consider
During the time when plumber is working on your plumbing rough in project, you may be advised to put any wires connected with this project into protective outer tubes. This protects the wiring should leaks happen in the future. If the wiring comes out at a specific juncture box, ask that each one receives a clear label so you can isolate them if needed.
For homeowners seriously considering a household expansion in the future, it's essential to communicate that to your contractor. This could change the entire plan for the rough-in system so it's easily adapted to future building. Generally it only requires a few extra pipes or vents, and doesn't exasperate the costs greatly.
As for what to expect, typically contractors start with the bath lines. As the heaviest object in the bathroom, the reason is obvious. This also gives the contractor an opportunity to make sure the chosen plumbing properly fits the tub and easily connects to the plumbing trim. From there it's on to connecting any other fixtures requiring water.
Rough in plumbing, as you can see, is a complex, multi-step project that's not suited to the amateur handy person. For results on which you can depend for many years, seek out a reputable plumber and get a written warrantee.
Plumbing rough in inspection is recommended.
Considering DIY plumbing rough in?
There are a lot of DIY step-by-step instructions on Internet and some people may be interested in doing rough in plumbing by themselves.
This is a huge and risky undertaking. Doing it to the code is essential, but learning that code is a boring and lengthy exercise. So, people skip it, or they take forum and webpage advice as a gospel, and do their own plumbing rough in.
I attend to the plumbing repair issues as a result of this quite often.
For example, a homeowner uses a wrong type of connector that is not recommended by the code. Two years later, the drain is clogged, I have to cut out a piece of pipe because my drain cleaning snake is not going into the pipe that is clogged. The price of plumbing repair has just gone up.
If you want to finish the project with personal touches after the main plumbing goes in – that's up to you. The comfort is knowing your project's foundation is secure. Moreover, in Ontario it is a law to get a licenced plumber do your rough in plumbing. Consequences of doing it yourself may go as far as refusal to pay your home insurance by the insurance company in case of plumbing-related damages to the house

---
Go Home from Plumbing Rough In Toronto