Unclogging drains
Three Ways To Unclog A Slow Drain
If your sink or bathtub has a slow drain, read this guide to unclogging drains. A plumbing problem like a clogged drain is best addressed immediately, as it can quickly become a bigger problem. For example, you can end up with sewer smell in the house at a most inconvenient moment. 
Plumbers get loads of panic calls during the holidays about clogged drain and sewer.  People do more cooking, washing up, cleaning, laundry,  etc. They become less attentive to their environments as they eat, drink, and be merry.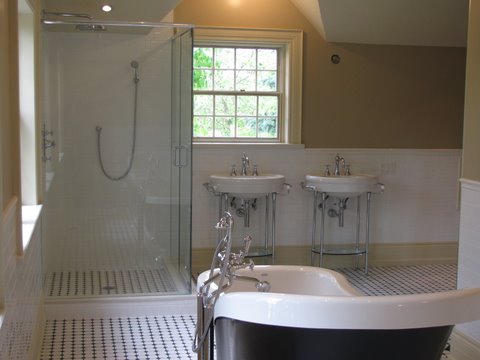 Guests can accidentally drop things in the toilet, pets play with toys that may also end up there, and children like to test whether their new toys will sink or swim.  Women showering more means more beautiful long hair in the drain. For all these reasons a clog can form in your pipes.
It is not unusual for older houses to have clay sewer pipes. As tree roots grow into them, they can crack and things passing through the drain get stuck on the roots, forming a clog.
Moreover, excessive water use tends to overload the drain system and leads to situations where you are in need of home plumbing repair at the most inconvenient time. 
You are fortunate if you have a clogged sink drain, but if you are not, you may have sewer backup and sewer smell in your house. 
Unclogging Drains In Three Easy Steps
1. Try a natural drain cleaner to unclog the drain
Most often, sink drains are clogged by grease and food particles stuck in the p-trap. The p-trap is the place where the pipe curves under the sink. Natural cleaners like baking soda and vinegar can solve this problem. To unclog drains naturally, follow these steps:
   1) Put half a cup of dry baking soda into the drain.
   2) Pour half a cup of vinegar into the drain and quickly cover it with a rag. Leave it for half an hour.
   3) Pour 2-3 liters of boiling water into the drain. 
This method is effective in unclogging drains in many situations. Many people use acid drain cleaners. Please be aware that this method works as well, but may damage your pipes, particularly in an old house.
2. Use drain snakes
The Home Depot sells drain and sewer snakes, and they can even be purchased online. Usually  though, when you have a clogged drain, you do not have time to shop around. 
 Professional high-power equipment used by plumbers costs over $600, which makes it unreasonable for home-owners only hoping to use it once. 
Another option is buying a manual drain snake, or renting a good drain snake at the Home Depot or another hardware rental place.  Keep in mind that a manual drain snake is only effective for problems in the straight part of the pipe or in the p-trap. It may not be long or powerful enough to deal with problems further on in the drain. 
Renting a drain snake costs about $80, and requires you to make two trips to the rental place, to pick up and drop off the equipment. Often, inexperienced people end up wasting this time and money, because the clogged drain is a sign of a more complex problem such as tree roots in the pipes. 
3. Call a plumber to do drain snaking
Professional drain snaking is not much more expensive than renting your own equipment, but comes with several advantages:
the plumber has professional power equipment and is more likely to fix the problem quickly; 
he can diagnose the problem and check for any bigger concerns using drain camera inspection; 
especially in an older house, where plumbing may not be done up to the current code, the plumber can discover this and find a solution. 
It is much cheaper to deal with drain issues before the sewer overflows than after. If left untreated, it will likely damage your basement floor and furniture. Finally, if the drain snake you rented fails to solve the issue, you now have to pay for a professional on top of it. Always note slow drains and act quickly to avoid big disasters.
We offer a free home plumbing inspection with any service, so why not take advantage of this promotion and get your drain thoroughly inspected to make sure that slow drain is not caused by some issue in drain and sewer. 
Call on a licenced plumber to take care of your needs. Read our Clients' Testimonials.