Do You Need A Back Water Valve  In Your Toronto Home?
The main purpose of back water valve ( or back flow valve) is to prevent basement flooding with sewage water. Homeowners gladly agree to install it because City of Toronto provides subsidies and reimburses the majority of installation cost.
"It is essential that homeowners take the appropriate action to reduce the risk of basement flooding on their own private property. Those who isolate their home from the City's sewer system can significantly reduce the risk of basement flooding," advises City of Toronto. 
We observe pictures like this one, with sewage all over the basement floor and damaged personal items, after every heavy rain in Toronto: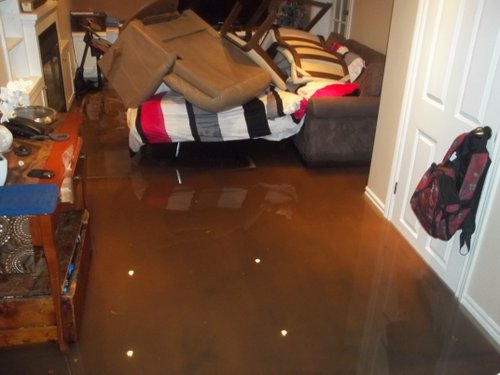 City's rejection rate for flood claims is very high. To find out exactly how high, check out this article "Flood victims denied City compensation" which describes in great detail, with grim pictures, what many East Toronto residents had to go through after heavy rain that hit the city in November 2012 and how many received a compensation.
Recent Review: "Dmitry and crew are always on time. Clean installation that required a bit of a creative thinking because of the position of the backwater valve. Dmitry was like surgeon, exploring where exactly drain pipe is and cutting precisely where needed. Paperwork was taken care of. See more reviews on Homestars.com
When Backwater Valve Is Your Only Insurance Against Basement Flooding
City of Toronto advises that increasingly severe weather conditions related to the climate change may cause their sewer system overflow. As hard as they work to prevent this from happening, rains can add water to the system faster than it can pump it out. When underground sewer system is full, the water has nowhere else to go but back into the sewer pipes of the homeowners and into their basements, causing flooding in basement.
Installing back water valve shuts the access to the flood water to your home.
Watch this quick video to get a scoop on how backwater valve helps and why install it: 
Toronto plumbers know that some areas, such as North York and 35 more, are at higher risk of basement flooding than the others. We can tell you whether back water valve install in your home is essential or not. If you consider doing this, give Dmitry a call at (647) 287-9589 or (416) 519-4919 to get a phone consultation.
Subsidy for back water valve installation in Toronto
Most of Toronto homeowners qualify for a subsidy that covers back flow valve install. City of Toronto covers 80% of the cost of installation if:
Your property is an existing home, properly connected to the city's sewer system,
Your plumber is licensed by the City of Toronto,
Your installation is paid for before you submit an application.
You can read full list of conditions and print out an application at City Of Toronto website.
One of the main conditions is that a homeowner must consult with a plumber licensed by the City of Toronto to "determine that a back-water valve on the sanitary sewage and/or storm water connection could provide sufficient basement flooding protection."
Some people just call a plumber, pay more than a thousand dollars for back water valve installation and don't get their subsidy back just because their plumber did not qualify to make a decision that it was necessary. This is a costly mistake and you can avoid it by calling a licenced plumber like A to Z Plumbing & Drain. Our phone numbers are (647) 287-9589 and (416) 519-4919 and we will be glad to come and make an assessment for you.
When back water valve installation doesn't help
So why do we get calls from the homeowners who have their basement flooded after the back water valve installation? There is one situation when back water valve won't work for you. If your own sewer system is blocked by something, usually, tree roots, your system fills up and back water valve closes.
Picture below illustrates this situation: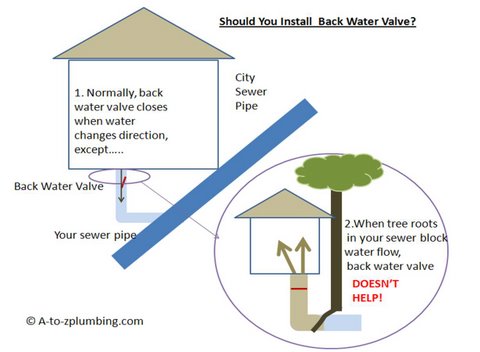 Your family, of course, doesn't monitor back flow valve and continues to flush toilets and take showers. All this sewage and drain water has nowhere to go now that the back water valve is closed. The system fails to stop basement flooding and you have to call a Toronto plumber again.
This situation also applies to houses located high enough above the flood level. Their basement would never be flooded by the city's sewer water, so they don't need a back flow valve. If it is already installed, and the same problem with sewer pipe happens, it may leave home owners puzzled one day, why didn't the valve protect their home?
How to avoid basement flooding completely?
Before installing back water valve, call us for sewer and drain pipe camera inspection. We will make a video of your sewer pipe, and it will clearly show whether you will benefit from back water valve installation or not.
If you happened to have tree roots grow into your old clay sewer pipes, a replacement of that pipe with PVC sewer pipe will resolve the problem for at least 25 years.
If you have great looking pipes, we will proceed with back water valve installation and help you fill out the forms to get a subsidy from the City of Toronto.
Back water valve is a good investment that protects your Toronto property from water and sewer damage. It doesn't cost much, thanks to the city's help. Call Master Plumber Dmitry today to discuss how you can prevent basement flooding. Phone numbers of A to Z Plumbing & Drain are (647) 287-9589 and (416) 519-4919.
What Is Backwater Valve?
Backwater valve is a device that
Provides protection against backflow of sewage into home
Allows for free flow of air and outflow of sewage (Normally open backwater valve)
Here is how it looks like: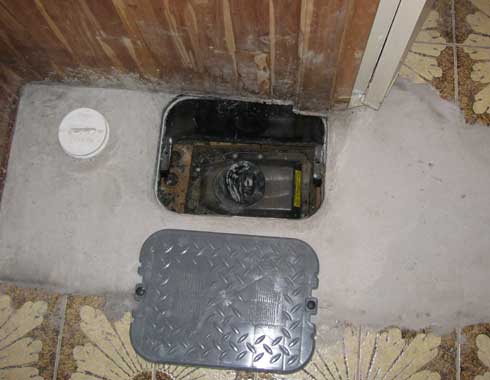 Finished look of back water valve ( back flow valve) installation in North York home.
---
Go Home from Back water valve installation Toronto
Go to Home Repair Plumbing in Toronto from Back water valve installation Toronto
Check out our Plumbing Projects Gallery to see examples of our work