Exterior Basement Wall Waterproofing Process
If you experience basement moisture problems, your first step is to get a plumbing inspection to determine the best way to deal with wet basement.

The safest solution is to do basement wall waterproofing.
It may not be required in all cases, that's why you can save a few thousands bucks by getting a consult from a plumber. 
If it was determined that exterior wall waterproofing is the right solution, start collecting  quotes from basement waterproofing contractors because prices and quality of work differs. 
A to Z Plumbing & Drain Special: Free Home Plumbing Inspectionwith Basement Waterproofing Service.
Call (647) 287-9589 or email dmitry@a-to-zplumbing.com today
Unbelievable value: check your whole home plumbing system for free!
*Limited time offer, valid only in December, 2023
__________________________________________________
Exterior basement wall waterproofing process continued..
Next is parging step. We apply one coat of waterproofing parging mix cement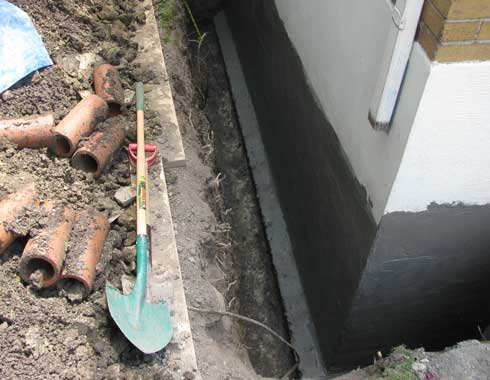 Step 3
Install and connect to existing weeping tiles system new plastic perforated foundation drain pipe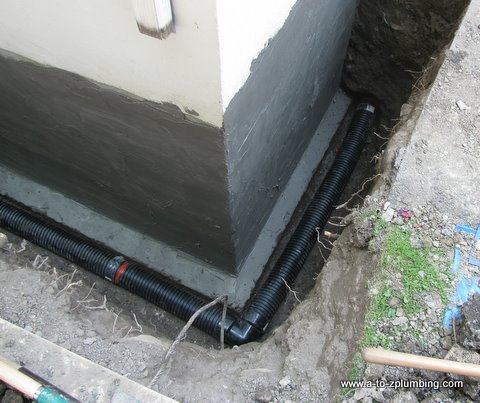 Then we apply two coats of waterproofing tar sealer
Then we install new plastic solid basement waterproofing membrane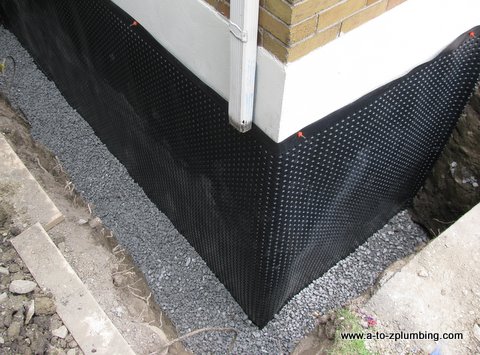 Add gravel or crushed stones above the new plastic perforated foundation drain pipe
Result
Finally, we backfill excavation by native materials and compact the soil.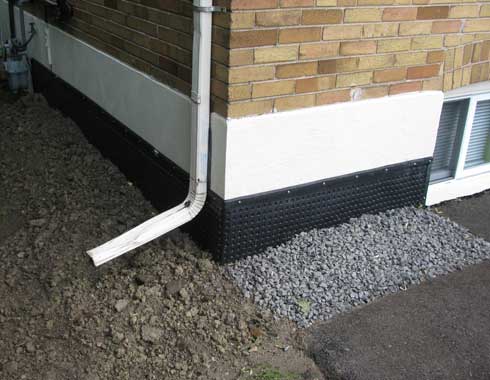 All this work is done in a very neat manner with observing safety rules and regulation. We do it as quickly as possible so that your house doesn't stay in the state of construction forever.
What if basement waterproofing contractors damage my gas pipes or electrical lines?
A to Z Plumbing & Drain provides end to end basement waterproofing services according to the standards set by the City of Toronto. You don't have to call Enbridge or Toronto Hydro, you don't have to worry about damaging their lines and pipes.
We do it all for you. We contact your gas and electricity provider and get a permit to perform basement wall waterproofing. We may get a representative on site if that is required.
We don't ever leave the job unfinished. You don't need to make numerous calls to us. You don't have to stay home during work time just to see no contractor coming.
You have seen houses in the permanent state of renovation with trenches around them and no work going... This won't happen to you.
At A to Z Plumbing & Drain, our resources are lined up to perform exterior basement wall waterproofing as fast as possible. We rely on your great review to continue getting business from people like you.
Read our Clients' Testimonials and rest assured that we will work hard to get one from you!
We make your exterior wall waterproofing experience painless for you.
Call us (647) 287-9589 to get your consultation.
---
Go
Home
from
Basement Wall Waterproofing (Exterior Wall) in Toronto and GTA
Read about
Drain Pipe Repair Toronto
and
Drain Pipe Replacement Toronto
Also Check out
Home Repair Plumbing in Toronto