No Power After Toronto Ice Storm? Steps To Protect Your Pipes From Bursting 
During Toronto Power outage, you must use different ways to protect your plumbing system depending on whether you stay at your home or leave it unattended while joining your friends and family who are lucky to have electricity.
In the midst of power outage affecting Toronto, Mississauga, Scarborough and other municipalities in GTA, my phone doesn't stop ringing.  With temperatures below zero, and 72 hours estimated time to repair, clients are asking for my advice. They are afraid that their pipes will freeze and burst.  
They will indeed if you don't take preventative measures!
Please follow these tips to prevent burst pipes, and hefty plumbing repair and renovation bills:
1.       If you have a central water heating system
Whether you stay at home or leave, you must drain this system.  You really need a heating company to do this for you. You can have radiators and pipes  burst due to the frozen water. Gas may be heating water in your system, but it's an electrical  re-circulation pump that pushes water  around the heating system.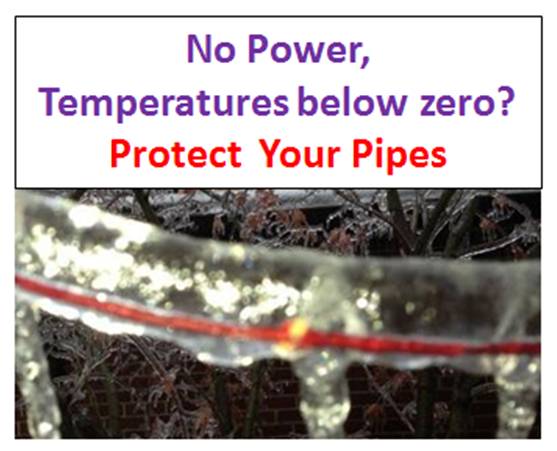 2.       If you are staying at home
a)      If your hot water tank is operational (because it runs on natural gas), open all taps in your house, all shower and vanity taps  every one or two hours, especially in the basement.  Flush the toilets. Allow hot water to run for 10-15 minutes to ensure the ice doesn't build up inside.
Note you have to do that at night time as well.
b)      If your hot water tank is not operational, you can first use up all hot water. Then,  I recommend to store some water in buckets in the basement to have it for drinking and flushing toilets. If you have a bathtub in the basement, you may use it for storing water too.  Drain your water system as described below.  
3.       If you are leaving your home
·         If you have hot water, open all taps and let it run for 10 minutes to warm up the pipes.
·         Turn off the water supply to the house. The handle is usually located in the basement at the water meter.
·         Now drain water from your plumbing system. Open all taps, hot and cold, starting from the upper floor.
·         Flush the toilets. You can add antifreeze to the toilet bowl to prevent drain pipes from freezing.
·         Do not forget to turn off water supply valve to your hot water tank. If you leave it on, you risk that it will break.
·         Drain your hot water tank. It should have a drain valve which you need to open and then close when done.  Theoretically, it should not be necessary to do if the boiler  is located in the basement,  because temperature there should always stay  above zero.  However, practically, draining your hot water tank is a safer choice especially during the long power outage. Close the basement door to keep stable temperature.
·         Turn off all taps.
·         If you have a sump pump WITHOUT backup battery, remove all valuable belongings from your basement floor in case of flooding.
·         Turn off the breaker on your power panel. It's not unusual for power to  go  on and off several times during repairs. So, some of your devices and appliances may break. But most importantly, if you are unfortunate to have a pipe burst or basement flooded, it may be a health hazard for you to enter a flooded basement. 
·         Lock your home and take phone numbers of your neighbours who you can call to check on your house and on the status of repairs in the neighbourhood.
Consider these tips as pipes do burst as a result of water freezing in them. If you have any doubts, call your plumber, who should be able to recommend the best course of action. 
Stay safe! 
Dmitry