24 Hour Emergency Plumbers in Toronto and GTA | Free home plumbing inspection in May, 2015 !
Basement Flood Protection Program And Get Two Free Home Plumbing Services Plus City Rebates.
Call (647) 287-9589 or email dmitry@a-to-zplumbing.com today
*Limited time offer
We are certified plumbers, licensed by Toronto municipal Licensing & Standards department.
Among hundreds of Toronto certified plumbers, we stand out by giving you our unconditional guarantee.
We guarantee that you get:
- $20 off your repairs if our plumber is not on time at your door
- One to 25 years warranty for the work we do in your home
- Clean service – Your carpets and floors stay as clean as they were before we arrived
- Honest pricing – we charge by the job, not by hour, and we do not charge mileage. Our prices are reasonable.
- Job done right the first time – We work fast and so that no rework is ever needed.
Recent Review: "Dmitry and crew are always on time. Clean installation that required a bit of a creative thinking because of the position of the backwater valve. Dmitry was like surgeon, exploring where exactly drain pipe is and cutting precisely where needed. Paperwork was taken care of. See more reviews on Homestars.com
Why choose a certified Toronto plumber when dealing with plumbing emergencies? Handymen without a license haven't studied specifics of Toronto's plumbing, drainage, venting and sewage systems. They may harm your home or plainly not finish the job. You will not get rebates from the city unless your plumber is certified. We see it every day.
We are on call 24x7, ready to do sewage clean out and get rid of sewer smell in your house.
We do sewer camera inspection to make sure sewer emergency doesn't happen again in your home.
We protect your home from flood (and your wallet) by installing quality backwater valves and sump pumps so that next heavy rain doesn't catch you off guard.
We promptly deal with your clogged sewer or drain pipe, any water leaks from your plumbing fixture, and any other plumbing issue that may trouble you.
We waterproof your basement foundation and walls so that your family doesn't get sick from mold and mildew.
We repair your home plumbing for a reasonable price so that you don't have to learn to do it yourself.
We save you time, trouble, and money.



Read our Clients' Testimonials and rest assured that we will work hard to get one from you!
Become a Member of our Preferred Rates Club: Signup is free and you get 10% off our services when you need them.
At A to Z Plumbing & Drain, our goal is to have you as a client for life.
We believe in saving you money by avoiding unnecessary work and providing the highest quality workmanship for competitive rates.
Call us 647-287-9589 or 416-519-4919 to get a free estimate or schedule a plumber in Toronto and GTA.
Here is a full list of services that we provide:
RESIDENTIAL-COMMERCIAL-INDUSTRIAL:
Plumbing Repair Services
Sewer and Drain Cleaning, Pipe Repair Services
Toilets-Faucets-Sinks-Taps
Backed up Clogged Sewer and Plugged Drain
Plumbing Kitchen Sink
Sewer Clean Out Service
Water leaks Investigation
Sewer Pipe Camera Inspection
Plumbing Rough in
Main Drain Snaking Service
Basement Bathroom plumbing
Power-Jet Flushing
Water Heaters and Boilers
Drain and Sewer Pipe Repair
New Main Water Service Installation
New Drain Installation
Basement Waterproofing Service
Trenchless Sewer Line Replacement
Sum pump Installation
Bathtub, Kitchen and Washroom Sinks Drain Repair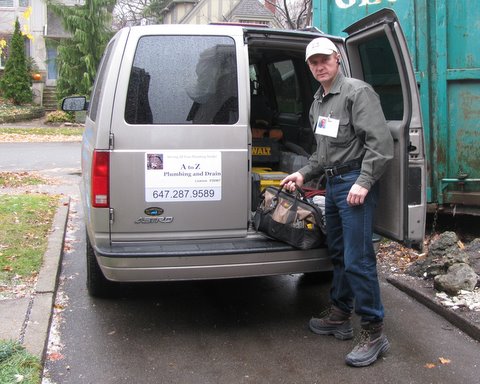 A to Z Plumbing & Drain gives you an affordable way to fix any plumbing problem.
At A to Z Plumbing & Drain, our philosophy is simple: quality work for a reasonable price. We want to respond quickly, make the necessary repairs, never make an unnecessary repair, and charge a fair price.
Give us a call at 647-287-9589 or 416-519-4919 for plumber in Toronto or GTA to fix your plumbing problem.
Learn how back water valve works and why it doesn't always guarantee to stop basement flooding. Get a plumber licensed by the City of Toronto to make an assessment and help you get a subsidy.
basement sump pump, solution for wet basement - what is it, who needs it, how to get in installed inToronto almost for free
Toronto Plumber Rates And Prices are rarely published, frustrating clients with the longer estimate game. A to Z Plumbing & Drain is all about transparency. Our plumbing rates are listed here.
What do clients say about Toronto Plumbers from A to Z plumbing & Drain? Read client testimonials from homestars here...
These simple basement sump pump maintenance steps will keep your pump work longer, says Toronto Master plumber from A to Z Plumbing & Drain
There are several ways to clean out sewer and get rid of sewer smell in the house. Sewer and drain cleaning service is meant to inspect clogged sewer pipes temporarily or forever.
Insurance claims due to flooding continue to rise. Stop basement flooding and don't pay a hefty price
Why do drain pipe video inspection and what does it uncover. Watch the movie made by drain camera
Master Plumber Dmitry M. explains methods of drain pipe repair and shows video of drain camera inspection done in Toronto homes
The need for drain pipe replacement is identified by drain camera inspection. Your plumber will use PVC pipe to prolong the life of your drain system
Cause, Solutions, Impact On Your Health
Trenchless drain pipe repair is a new approach employed by our plumbers in Toronto and GTA. This no dig way to deal with leaking drain pipe helps you avoid costs of landscaping after repairs are done.
The most effective basement wall waterproofing method is exterior waterproofing. See step by step exterior basement wall waterproofing process described by Toronto Master Plumber from A to Z plumbing
Leave your home repair plumbing to our certified Toronto plumbers instead of doing DIY plumbing repairs. The price is not as high as you may think.
Toronto Master Plumber Will Beat Any Estimate For Your Rough In Plumbing
Choosing plumbing pipes for your DIY plumbing project is requires special attention, say plumber contractors from Toronto A To Z Plumbing & Drain
Three ways to unclog a slow drain - advice from Toronto Master Plumber
Was your experience in fixing plumbing problems great or horrible? Share with others to help them make the right decision
Do you want to know how a typical plumbing project look like? Browse our plumbing projects gallery created by our plumbers in Toronto
Things to look for to avoid hidden surprises resulting in costly repairs when buying an old house
When doing basement renovations, Toronto home owners often overlook one simple step: plumbing inspection. See how costly it could be.
Not every renovation requires plumbing contractors' participation, but there are cases when you are better off hiring a Toronto plumbing contrator. Read more to avoid costly mistakes
How to hire a plumber? Toronto plumber suggests to look beyond plumber prices and rates...
Dmitry from A to Z Plumbing and Drain explains ins and outs of plumbing, waterproofing and other services offered by the plumbing contractors in Toronto and GTA
Contact us to inquire about services provided by Toronto plumbers from A to Z Plumbing & Drain. Call 647-287-9589 for 24 hour emergency plumber
Read About us if you want to know your plumber. Dmitry from A to Z Plumbing & Drain talks about himself and his company
When does it make sense to install a backwater valve on the inside or the outside of your home?